HINGES / CASEWORK HARDWARE – WORKSTATION BRACKETS

Steel Workstation Brackets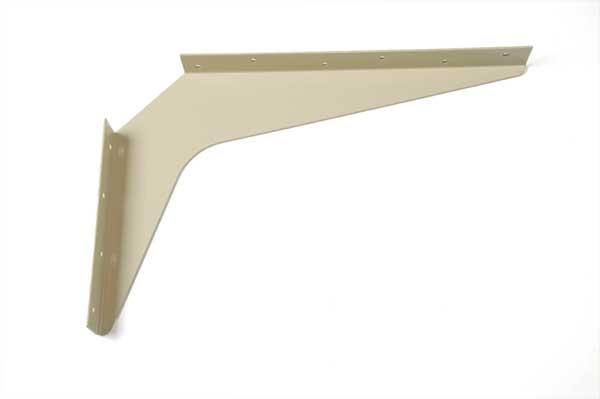 1/8" steel
Load capacity exceeds 1000 lbs. per pair
Available in four colors: Black, White, Almond, Gray
Primer finish available
Eight sizes
Mutliple mounting hole locations (1/4")
Larger sizes feature cut outs for wiring
Sold and packaged in multiple pairs equal number of rights & lefts
| | | |
| --- | --- | --- |
| Stock Number | Size | Pairs/Wgt/Box |
| B08-05081 | 5" x 8" | 5 prs/10 lbs |
| B08-08121 | 8" x 12" | 5 prs/21 lbs |
| B08-12181 | 12" x 18" | 3 prs/18 lbs |
| B08-15211 | 15" x 21" | 3 prs/27 lbs |
| B08-18181 | 18" x 18" | 3 prs/26 lbs |
| B08-18241 | 18" x 24" | 3 prs/31 lbs |
| B08-24241 | 24" x 24" | 3 prs/48 lbs |
| B08-24291 | 24" x 29" | 2 prs/38 lbs |
Stainless Steel Workstation Brackets
Genuine 304 series stainless steel
Natural brushed finish
Non magnetic
Twelve gauge
Three sizes
Multiple mounting holes
Cut outs for wiring
Packed in pairs, one right, one left
| | | |
| --- | --- | --- |
| Stock Number | Size | Pairs/Wgt/Box |
| B08-08121-SS4 | 8" x 12" | 2 pcs/3.8 lbs |
| B08-15211-SS4 | 15" x 21" | 2 pcs/8.5 lbs |
| B08-18241-SS4 | 18" x 24" | 2 pcs/9.8 lbs |
Steel Concealed Workstation Brackets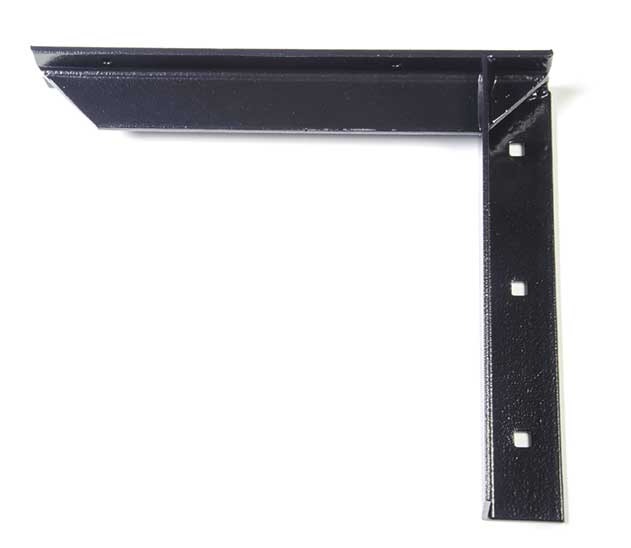 1/8" and 1/4" steel
Available in four colors: Black, White, Almond, Gray
Four sizes
Includes mounting hardware 3/8" x 4" carriage bolts, hex nuts and flat washers
Mounts directly to wall studs
2 pieces/box
Extended Steel Concealed Workstation Brackets
Product Guarantee
Rockford Process Control warrants all Institutional Casework Products shipped to be free of defects in materials and workmanship.
Limited Warranty
Rockford Process Control, Inc. (RPC) warrants its Hinges and hardware against defects in material and workmanship for a period of twelve (12) months from the date of shipment.

RPC will send the original consumer purchaser, without charge, a new RPC Hinge to replace any defective RPC Hinge subject to this warranty. RPC specifically does not warrant removal of the defective Hinge or installation of a new Hinge. This warranty does not cover Hinges that have been incorrectly installed, exposed to excessive loads or abuse in any way. This warranty is a warranty of hardware replacement only. No other warranty is expressed or implied.